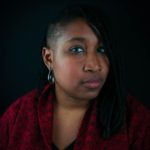 Adrian Jazz Applin (Advisor, Performer – Octavia): Adrian Applin is a Bay Area based singer/songwriter and multi-instrumentalist who plays the piano, guitar, and ukulele. Adrian's musical style is broad and eclectic and while the genres may shift, all of his songs are connected by the common thread of his powerful, versatile vocals. Music has always been a part of Adrian's life; from a young age he began performing R&B and Motown tunes with his father and his band, which had a profound influence on his musical development. Adrian is also a member of Voices Lesbian A Capella For Justice, the oldest continuously running lesbian choral group in the country. In addition to his musical interests, Adrian writes about the intersections of race, gender, and pop culture. His work was most recently published in Bitch magazine.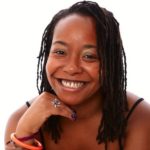 Joslynn Mathis Reed (Choreographer, Perfomer): Joslynn Mathis Reed hails from Detroit Michigan. Her lifelong passion for dance has taken her on a journey that includes performing with Aretha Franklin as a teenager, studying West African dance in Ghana as an undergraduate, and continuing to teach dance to a wide range of students over the past 15 years. Joslynn's unique style of movement and choreography is driven by a high-energy fusion of hip-hop, modern and ballet forms, resulting in her own unique style. Joslynn holds a B.A. in Dance/Theater Arts from California State University, East Bay and an MFA in Dance Performance and Choreography from Mills College in Oakland, CA where she currently lives and works. Joslynn has trained in Dunham, Ailey and Graham Techniques.
Anand J. Kalra (Producer, Director, Lyricist): Anand Jay Kalra has loved musical theater since before he could talk. In the decades since, Anand has developed his passion into refined skills in lyrical writing, music and film composition, and vocal performance. In 2016, Anand formed the all-trans-guy Vajayna Men's Choir and collaborated with T. Carlis Roberts (The Singing Bois) to co-produce Man2man, a vocal-driven concert that showcased a range of masculine-of-center experiences. From 2008-2012, Anand performed solo pieces in Southeast Michigan that queried his development as a librarian and transgender man. He is the founding director of Uncaged Librarian Productions and a 2017-2018 AIRSpace Fellow with SafeHouse Arts in San Francisco.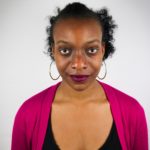 Itoro Udofia (Writer, Composer): Itoro Udofia is a fiction writer, cultural worker, and singer/songwriter based in the San Francisco Bay Area. She fuses her love of social change work into her writing and music, which speaks to navigating the grey areas between home and migration, love and fear, and ultimately, the process of reclaiming a sense of hope. You can find her published work in Slice, aaduna magazine, Saraba, The Book Smugglers, Merdians: feminism, race, transnationalism, and the anthology Two Countries: US Daughters and Sons of Immigrant Parents from Red Hen Press.
Emily Teresa Phillips (performer – Margaret) is a singer and actress recently relocated back to the Bay Area after many years abroad. A graduate of UCLA's theater department, and Georgetown/Sotheby's Institute, London, Emily is fluent in German, and has taught in the U.S., Europe, Turkey and South East Asia. A former set designer for theatre and opera, she most recently appeared as Cheryl in the independent short comedy,"INNER KID". She has studied at the Old Vic in Bristol, England, and the Actor's Workshop in Germany, with such luminaries as Giles Foreman, Siobhan Richardson
and Michael Abts. Emily just joined the Board of the LEAP Foundation, where she is able to marry her passion for education and the arts. Emily is so excited to be in her first musical production after spending many years behind the scenes as a scenic designer. Ever since she was little, and saw her first movie, a musical by the way, she has known that life is best lived as if it were actually, a musical.
Skip The Needle (Artist): Skip The Needle is an Oakland-based queer female quartet made up of musical superstars of the Bay Area; Vicki Randle (The Tonight Show, Mavis Staples), Shelley Doty (Shelley Doty X-Tet, Jambay), Kofy Brown (Kofy Brown Band, Sistas in the Pit) and Katie Cash (Katie Cash Band, Year of the Fist). Together, they make politically astute, rock n' roll-funk. Their songs are musically diverse and carry a strong, socially conscious message that begs the audience to party while hearing it. Formed in 2014, Skip The Needle has released two full-length albums and is thrilled to have contributed 6 original tracks for the Octavia Of Earth, Volume 2 EP.
Edie Irons (performer – Valerie): Edie Irons is a Bay Area native who has been advocating for social and political change for most of her life, sometimes from on stage. She's currently a member of Voices Lesbian A Cappella for Justice, which is celebrating its 30-year anniversary in 2018. She has also sung in progressive church choirs and occasionally performed in Kentucky Fried Woman's queer cabaret. Edie is an avid reader of Octavia Butler and visionary fiction, and is honored to be a part of this groundbreaking production.
Vera Hannush (performer – Devil Girl from Mars): Vera has been in the performance/drag/dance world for 8ish years, known for holding awkwardly long eye contact and hitting the splits. Vera is a proud member of the Rebel Kings of Oakland. In addition to being a performer, Vera is Board President of the Pacific Center (LGBTQ Center in Berkeley), a hiphop dance instructor at the Berkeley YMCA, and longtime volunteer at the YEAH! Youth Homeless Shelter. Vera is delighted to join the cast of Octavia of Earth in the role of a lifetime: Devil Girl from Mars. She thanks her queer community and especially Anand Kalra, whom she met in the middle of rural Tennessee 9 years ago.
Saloni Desai (Stage Manager) has just returned home to the Bay Area after 22 years away. Theater has been a passion of Saloni's before she had the courage to engage with it. Having stage managed numerous studio shows during her time at Fordham University, Saloni was thrilled at the serendipitous meeting with Anand, just weeks after moving to the East Bay, that led to her being brought on board this magical production. She is grateful to have encountered such beautiful, talented souls and looks forward to further artistic endeavors as she continues to regrow roots in her home soil.
Erica Dunkle (Dramaturge) A classical singer by training with a focus on both early and contemporary music, Erica enjoys being involved in new and innovative musical works. She has performed in a variety of inventive musical endeavors, including collaborations with the Paperhand Puppet Intervention in North Carolina, Ensamble Barroco de Arequipa Peru, and the visual artist Pedro Lasch as part of his Abstract Nationalism series in both D.C. and Venice, Italy. Erica is a Bay Area native and currently sings with the International Orange Chorale of San Francisco, a chamber choir devoted to the performance of 20th and 21st century music. Erica is excited to be a behind-the-scenes support for the creative team of Octavia of Earth, and gives a heartfelt thanks to Anand and the cast and crew for including her in this endeavor.