CONTACT: Anand Jay Kalra – (734) 845-2577, anand@uncagedlibrarian.org
FOR IMMEDIATE RELEASE
OCTAVIA OF EARTH, MUSICAL INSPIRED BY THE LIFE OF OCTAVIA E. BUTLER, COMES TO OAKLAND
Saturday, September 28, 2019, 659 14th Street – free and open to the public
2pm welcome, 3pm historic AAMLO tour, 4pm performance, 5pm Q&A, 5:30pm Reception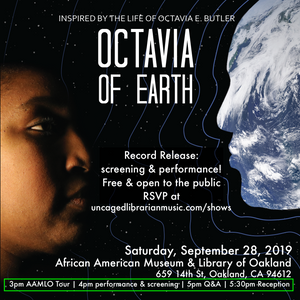 Oakland, CA – September 12, 2019 / – Oakland-based Uncaged Librarian Productions, in partnership with The African American Museum and Library of Oakland (AAMLO), will host a record release party for Octavia of Earth, Vol. 1, a studio recording of nine songs inspired by the real life of black feminist science fiction author Octavia E. Butler. The event will feature a screening of the new docu-musical along with live performances, audience Q & A, and a signing and reception to follow. Attendees may also join the AAMLO facility tour ahead of the event at 4:00 PM. The event is free and open to the public. Octavia of Earth, Vol. 1 was recorded and mixed by multi-platinum producer James Earley. 
The production was developed by a team of Oakland-based artists, with music by T. Carlis Roberts, Itoro Udofia, and Anand Jay Kalra, and Adrian Jazz Applin playing the title role. Grammy-nominee and longtime Bay Area favorite Melanie DeMore sang the role of Margaret, Octavia's mother, on the studio album, and will join the cast to perform live at the record release event on September 28. "This is a beautiful project that moved me deeply," said Melanie DeMore. "I think audiences will be filled with joy."
Octavia of Earth tells stories inspired by the life of science fiction luminary and the founding mother of Afrofuturism, Octavia E. Butler, based on archival research and select interviews. The musical was developed in workshop at SafeHouse Arts in San Francisco in 2018, as part of the AirSpace fellowship for queer and trans artists of color. "Millions of people have read Octavia E. Butler's fiction, but because she was so private in her lifetime, very little is known about her actual life," said director Anand Jay Kalra. "I'm so pleased to be able to color in the sketch of her life more, and to share the magic of live music as part of that storytelling."
Tender, funny, and magical, Octavia of Earth presents the human side of the mysterious founding mother of Afrofuturism. The live show incorporates documentary film components in place of spoken dialogue. Octavia of Earth focuses on Butler's early years as a child and adolescent in Southern California, as a young adult struggling to find a path forward for her creative aspirations, and as an established author of critical renown but limited commercial success. The album is available for purchase in mp3 and CD formats and is available to stream for free for a limited time at www.uncagedlibrarianmusic.com.
Uncaged Librarian Productions lifts up stories that sustain the hearts and minds of social change workers in the Bay Area. In particular, ULP produces collaborative music, theater, film, and data that highlights the struggles and victories of LGBTQ people, people living with HIV, and people of color in our ongoing fights for dignity, existence, and liberation.